Are you looking for a video training platform that allows users to create GMP-compliant training videos for manufacturing and pharma?  Speach is a complete video training solution where SMEs create interactive and engaging videos for training, communication, and knowledge sharing purposes.
In this article we'll discuss how to easily create and share training videos, and how Speach can benefit your organization.
Why Training Videos?
Training videos are a powerful tool for manufacturing and pharmaceutical enterprises to educate employees, customers, and partners on various topics such as safety, compliance, quality, innovation, and best practices. 
However, creating engaging and effective training videos can be challenging and time-consuming, especially when updating them frequently or customizing them for different audiences.
Create interactive and engaging videos, translate and subtitle them in 30+ languages, deploy and embed them easily, and update and check them by qualified personnel - all in one place - with Speach!
Learn how to create great training videos in minutes - and boost learning outcomes and retention-  with Speach by following these steps:
Steps to Easily Create a Training Video with Speach
Step 1
Download the Speach Apple or Android app on your device(s).
Step 2
Select "Create a Speach" from the menu in the top right corner. Choose a template, or start from scratch to create your own Speach. You will be asked to provide a Title and Category for your Speach video. Click "Continue."
Step 3
Record your video using the app or upload an existing video from your device or cloud storage. You can edit your video using the app's intuitive features such as trimming, cropping, splitting, merging, and adding transitions.
Tip: With Speach, creators have the option to create a stand-alone video, or to sync it alongside a corresponding presentation.
Step 4
Add interactive elements such as quizzes, polls, surveys, annotations, links, and more to enhance your video and test your learners' understanding. You can also add voice-over, subtitles, captions, and audio descriptions to make your video accessible and inclusive.
Step 5
Publish and share your Speach with your audience via email, QR code, social media, or embed it on your website or learning management system (LMS). You can also download your Speach as an MP4 file or export it as a SCORM package for offline viewing or integration with other platforms.
Step 6
Track and analyze the performance and feedback of your Speach using the dashboard and reports. Admins can see how many people viewed Speaches, how long viewers watched them, how they interacted with them, what users learned from them, and what they liked or disliked about them. Creators can also leverage feedback to improve future Speaches.
Why Choose Speach?
Speach is a game-changer for manufacturing and pharmaceutical enterprises wishing to create engaging, effective, and GMP-compliant training videos that deliver results. With Speach, you can save time and money, increase learner engagement and retention, improve knowledge transfer and compliance, and enhance your brand image and reputation.
Benefit 1: Easy for Everyone to Use
The Speach interface is simple and intuitive, allowing users to create, edit, and enrich videos in minutes. Creators don't need any technical skills or special equipment to use Speach, as it works on any device and web browser.
Various features such as voice over, documents integration, annotations, quizzes, CTA, and more are available to make videos more interactive and engaging. Speach also provides tutorials and support to help all users get started and make the most of the platform.
Benefit 2: Make Training Videos Accessible 
Speach enables users to translate and subtitle videos automatically in 30+ languages, making it easy to reach a global audience and ensure consistent quality standards across sites.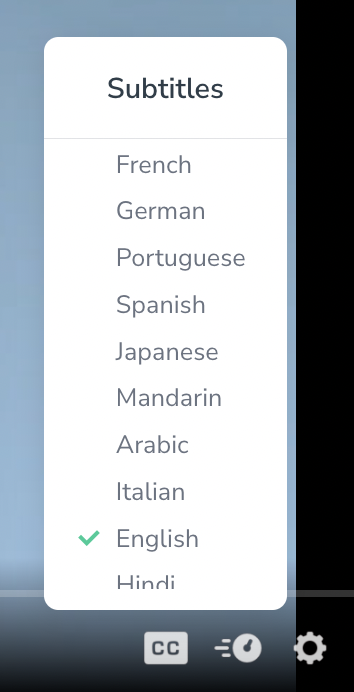 Navigate language barriers and cultural differences with confidence, as Speach can adapt your videos to suit your preferences and needs. You can also customize the language settings to match brand identity and tone.
Benefit 3: Share Knowledge Seamlessly
Speach helps deploy training videos across sites in seconds, and embed them in LMS or any existing tools. Don't waste time or resources uploading or downloading the videos, as Speach can do it automatically.
Track and analyze the performance and feedback of videos using the dashboard and reports. Monitor the effectiveness of training videos and make improvements as needed.
Benefit 4: GMP-Compliant
A fourth advantage of Speach is that it ensures that training videos are updated and checked by qualified personnel. Don't stress about outdated or inaccurate information, as Speach users can easily edit and modify videos as needed to keep up with changing processes, requirements, and GMP practices within the company. 
Users can also collaborate with colleagues and experts to create and review the videos, ensuring that the highest standards of quality and compliance are met. 
Benefit 5: Learner Retention
One of the advantages of Speach is that it allows SMEs to create interactive and engaging videos that can capture the attention and retention of learners.
Unlike other platforms that offer static or boring videos, Speach lets you add quizzes, polls, surveys, annotations, links, and more to test understanding and reinforce various GMP concepts. This way, you can ensure that learners are not only watching the videos, but also learning from them.
Conclusion
These advantages can help your organization ensure that your learners are well-informed, well-trained, and well-prepared for the GMP requirements and practices. 
Try Speach today, and learn more about how to create and share GMP-compliant training videos with Speach's blog, YouTube channel, tutorials and examples!