Training videos are one of the most effective ways to deliver knowledge and skills to many employees, customers, and partners. Great training videos can help large enterprises reduce costs, save time, increase engagement, and improve performance. 
However, not all training videos are created equal. Depending on an org's goals, audience, and content, it may be necessary to choose different types of training videos to suit different and evolving needs.
This guide explores some of the most popular types of training videos and how you can leverage them for your large business.
1. Employee-Created Videos
One of the most valuable tools in any organizations toolbox should be employee-created videos. Videos created by employees and subject matter experts (SMEs) are great for sharing expert knowledge with the rest of the company. These videos are not only for managers—any teammate or SME can make one. 
Employee-created videos are particularly useful for documenting invaluable subject matter expertise and sharing it with the rest of the company.
Use employee-created videos to:
Showcase best practices and tips from top performers

Capture tacit knowledge from SMEs

Share feedback and insights from customers and partners

Demonstrate how to use new tools and processes

Celebrate achievements and successes
Employee-created videos are also a powerful way to foster a culture of learning and collaboration in your organization. They can help you build trust, recognition, and engagement among your employees.
To create employee-created videos, you need a simple and intuitive tool that allows anyone to record, edit, and share their videos in minutes. That's where Speach comes in. 
Speach is a video training platform that enables large enterprises to create and deploy a how-to video library, ensure a standardized way of working, and improve on-the-job training. Leverage Speach to create high-quality, curated, SME-created training videos!
2. Presenter Videos
This type of training video involves a person in front of the camera. This is perfect for when you have a charismatic speaker or SME who's comfortable on camera and can keep employees and new hires engaged with the training.
Use Presenter videos to:
Introduce a person, team, or the company to new hires or prospects

Explain complex concepts or ideas with visual aids or examples

Deliver speeches, customer stories, and more

Provide feedback or coaching
Presenter videos also add a human touch and personality to training content, helping to build rapport and trust with employees and viewers.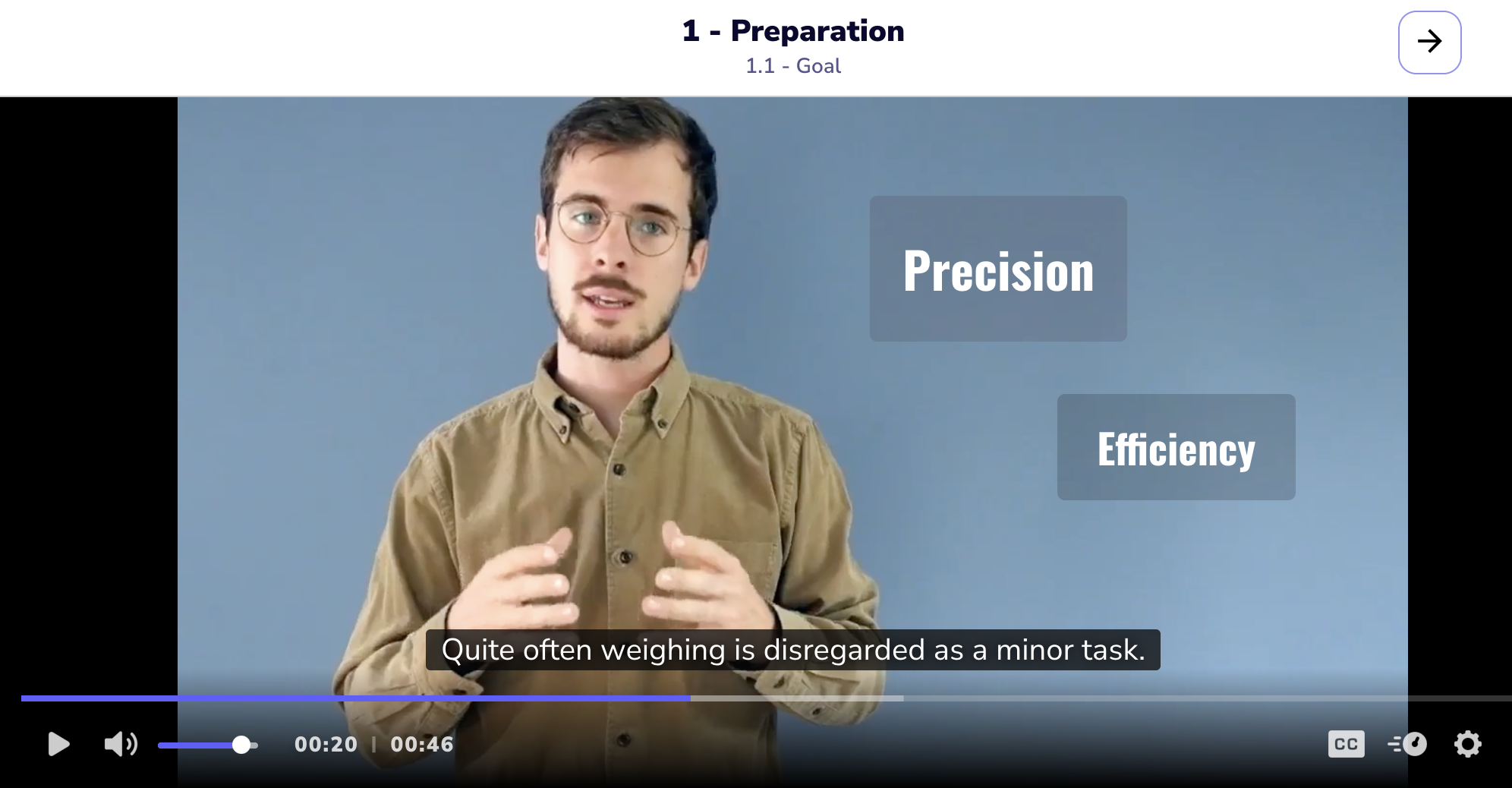 To create presenter videos, a good camera, microphone, lighting, and background are needed. Be sure to plan the script, rehearse the delivery, and edit footage. 
To make it as easy as possible, leverage Speach to record SMEs using just a webcam or smartphone. Then add slides, images, and annotations and edit your video with ease.
3. Animated Videos
This video uses fully animated visuals such as graphics, text, and icons. Animated videos can be useful for explaining complex tutorials, ideas, and data -think of them as an infographic turned into a video.
It is, however, important to note that animated videos can be cost-prohibitive and time consuming.
Animated videos can help:
Simplify abstract or technical concepts with metaphors or analogies

Visualize data or statistics with charts or graphs

Illustrate processes or workflows with diagrams or flowcharts

Engage learners with colorful and dynamic animations
Creating animated videos generally requires professional software, such as Adobe After Effects, as well as the need to design graphics, animate your elements, and sync your audio. All of this can be cost ineffective, time consuming, and virtually impossible to update.
Luckily, organizations have an alternative.  Use Speach's editing tools to easily add animated stickers, text effects, transitions, and music to training videos - without the added cost and time.
4. Screencast Videos
A simple screencast (or screen recording) is usually the fastest, easiest, and most affordable way to create a video. It is very possible to produce a polished and edited video of a screen recording for training purposes.
Screencast videos are very useful to:
Demonstrate how to use a software or website

Show how to perform a task or solve a problem on the computer

Share tips or tricks for using a tool or feature

Provide feedback or support on a document or project
Screencast videos can also make training content more practical and relevant. They can help to show -rather than tell- what SMEs want to teach.
To create screencast videos use Speach's recording tools to capture your screen, webcam, or both, and edit your video with annotations, quizzes, or CTA. 
5. How-To Videos
How-to videos are versatile. Depending on the actual content and your goal, they can be very easy and quick to make, or be incredibly complex. 
For example, you could synchronize a presentation video with a screen recording for a tutorial. Or, you could create a simple slideshow video with screenshots and clips of a process.
How-to videos are helpful to:
Teach a skill or technique step by step

Provide instructions or guidance for a procedure or project

Answer frequently asked questions or common issues

Share best practices or recommendations for a topic or situation
How-to videos can also make training content more actionable and useful. They can help you empower learners to apply what they learn.
To create how-to videos organizations must define learning objectives, outline steps, gather materials, and record SME video. It may also be necessary to edit videos with titles, captions, or transitions. 
Accomplish all of this -and more- with Speach's tools to record yourself or your screen, add documents or images, and enrich your video with quizzes or CTA.
6. Interactive Videos
Interactive videos let the viewer watch a video and interact with the video interface in the form of polls, quizzes, annotations, tests, and more. 
For example, an employee might watch a training video to begin onboarding as a new hire. After the video, they might be asked to take a quiz to assess their comprehension of the material. If they pass, they move onto the next training. If they fail, they may be required to retake that training. 
Use Interactive videos to:
Customize your training content based on the learner's profile, preference, or feedback

Increase learner engagement and retention with branching scenarios or gamification

Assess learner comprehension and performance with quizzes or challenges

Provide personalized feedback or guidance based on learner choices
Interactive videos can also make training content more adaptive and immersive. They can help organizations create a more interactive and personalized learning experience.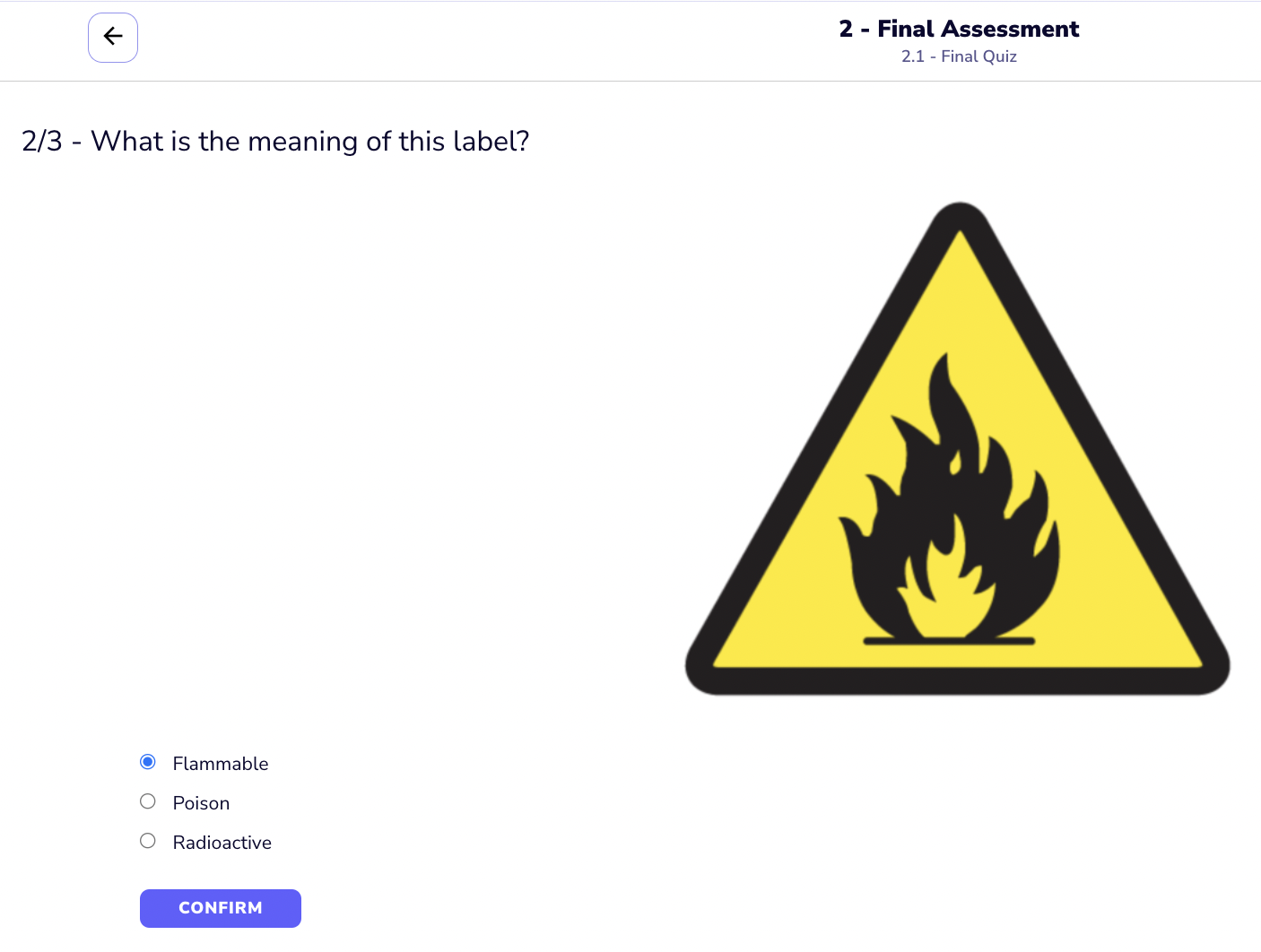 To create interactive videos, specialized software such as Speach is required. With Speach you can record training videos, then add interactivity such as quizzes, CTA, annotations, documents, and more to your video.
7. Live Videos
Every once in a while training topics will require real-time audience engagement. An example includes the very rare live video event. These can be useful for company-wide, non-remote training events. 
Live videos can help:
Deliver timely and relevant information to a large audience

Encourage participation and interaction with polls, chats, or Q&A

Showcase live demonstrations or presentations from experts or guests

Create a sense of urgency and excitement for your training
Live videos can also make your training content more authentic and spontaneous. They can help you create a more lively and dynamic learning environment.
To create live videos, you initially need a streaming platform such as YouTube Live. Then it is necessary to prepare the equipment, content, and audience.
It is often helpful to record live video for editing and future use. After the live event, leverage Speach's integration tools to embed your live video in your organization's Speach training video library.
Conclusion
As you can see, there are many types of training videos to create, each one with its own advantages and disadvantages depending on your goals, audience, and content. The key is to choose the type that best suits your organization's needs and use the right tools to create it.
If you are looking for an industry-leading, simple, yet powerful tool that allows you to create any type of training video in minutes, check out Speach!
Speach is a video training platform for large enterprises that helps organizations build their knowledge network, deploy a how-to video library, ensure a standardized way of working, and improve on-the-job training.
With Speach, you can:
Create employee-created videos, presenter videos, screencast videos, how-to videos, interactive videos, and live videos with ease
Use 10+ tools to record, edit and enrich your video (voice over, documents integration, annotations, quizzes, CTA…)
Translate & subtitle automatically in 30+ languages
Deploy your training videos across your sites in seconds and embed it in your LMS or any existing tools
Manage your videos with access control (SSO), powerful dashboard, workflow validation, versioning control, and audit readiness
Comply with GMP & FDA regulations with electronic signature